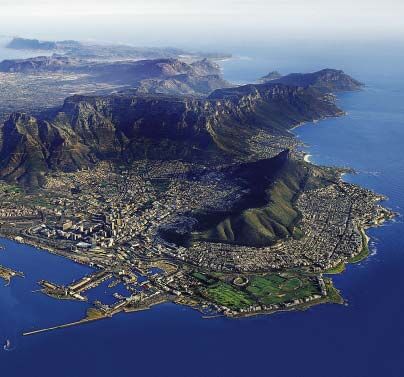 Welcome to the Bigtrip Wiki
Time to head south. Well not yet, but soon...ish.
Things To Sort Out
Things we need to sort out before we go:
Accommodation - Initiated transfer: £607.73 total = £202.58 each.
Money (for info, you can type 'xx ZAR in GBP' into Google to find out how much things cost in £s) Currently £500 of activities planned (not including Sanbona which will be paid in advance).
Travel to Heathrow (car, bus, train?) - Dadhas offered to drive us so I've forwarded him flight details. How far in advance do we want to get there? I want to be early. Start the adventure, and make sure everything is smooth.
Visa Information - No Visa as long as you have 3 blank pages in your passport
Insurance - Check specifics for activities we might do (surfing, etc)
Practice accent
Vaccinations - I had a quick google and it says that we do not need any vaccinations for going to Cape Town but might want to check out this page . Don't know if we actually need anything as we aren't going out of Cape Town? What activities go far enough out that we might need to? Also, that page says it recommends Tetanus and Polio are up to date. I personally will avoid jabs if possible, thoughts?
Area of travel - 2 hours approx, what is and is not in that radius?
AA International Driving License (info here ) - Don't think we need one as we have picture driving licenses but something to check with insurance company of car.
Things To Do / Places To Go
List of things we want to do whilst we are there. Doubt we will have time to do everything, but I thought it might be an idea to chuck everything down anyway:
Activities:
Shark Cage Diving - Need credit card to confirm booking.
Whale spotting (Boat ride, Hermanus?) - Whales stay until end of November so fit this in early - agreed, although it depends on the whales...lots of info about this on apexpredators website! Different whales are still around in November so hopefully should still see something!
Wine Region Tour - Save money by going with Grandparents and driving ourselves.
Huey Helicopter Flight (V&A Waterfront) - Not Huey, change to other type of helicopter to save some money.
Watch a rugby match (especially if they have any at the new stadium)?
Kirstenbosch Summer Sunset Concerts (every Sun from end Nov to end Mar beginning at 5:30 near table mountain)

Places:
Table Mountain and Aerial Cableway
V&A Waterfront - external link
Green market Square - external link
Cape Point
Cape of Good Hope - and Baboons :-D
Cape Flower Route (Cirusdal) - WRONG TIME OF YEAR - June - October
Mouile Point Beach (Mouille Point)
Hermanus Cliff Path (Hermanus)
Explore the Perdeberg Trail (Grabouw)
Meander along Jaeger Walk (Fish Hoek)
The Garden Route
Chapman's Peak / Drive Chapmans Peak (Hout Bay / Noordhoek)- external link
Fish Hoek Bay
Muizenberg Beach
Game Reserve - Sanbona. Booked, money transferring. R26850 total, 2 nights (£2136.53 - £712.18 each)
Kirstenbosch National Botanical Gardens
Kalk Bay (near Simon's Town) - apparently has a restaurant where you sit close to the water and at high tide you can even get a bit wet.
Noordhoek Farm Village

Food & Drink (Restaurants):

Food & Drink (Dishes):
Gatsby
Vetkoek
Koeksisters
Snoek
Pap n' wors
Klippies & Coke
Fresca
Timings
So having had a bit of a think about timings, I think we should try and sort it out like this (this list based on some of the things I'd like to do as a priority): - I read some of the guide book I have and it says that when the winds pick up it can get quite hectic so we may need to be flexible in that where we were planning a beach day and the day turns nasty we can switch things around. Will need to think about this carefully given that some of the things we'll need to book in advance. Perhaps we need to list what needs to be booked and what can just be done on a 'turn up' basis.
---
Shark boat trip Gansbaii – ½ day (early start)
Whale spotting on Hermanus Cliff Path (Nr Gansbaii) – ½ day
---
Safari trip – 1-2 days (with travel)?
---
Chapman's Drive Incl. Simon's Town and Boulders Beach – 1 day (early start)
---
Table Mountain – 1 day (opens about 8am)
---
Seal Island boat trip from Simon's Town – ½ day.
---
Wine Tour – 1 day
---
Robben Island and Victoria Waterfront – 1 day
---

We could do say day on / day off - for instance Shark and whale activity on the Monday, chill day on the Tuesday. Chapman's Drive on the Wednesday, chill day on the Thursday. Def important that there isn't driving every day.
Table of activities from planning session.
Camera (Sam)
What lenses do I want?
Rubber lens hood for aquarium?
Tripod / Travel Tripod
Stuff to Remember for Specific Activities
A hat for walking table mountain (or other possibly sun drenched walks)
Easily carried water bottle
Plasters (possibly first aid kit)
Advised that a jumper and/or jacket should be taken all times of year due to changeable conditions (especially winds). Is there likely to be much rain - probably not, but worth keeping in mind Potentially buy a cheap raincoat out there?
General / Useful Links
Found a useful link? Paste it below:
http://www.dining-out.co.za/default.asp?SearchS=22&Keyword=Type%20Restaurant%20Name&LocationID=132&FoodTypeID=ALL&Order=NAME
http://www.southafrica.info/travel/advice/
http://www.fco.gov.uk/en/travel-and-living-abroad/travel-advice-by-country/sub-saharan-africa/south-africa
Trip costs so far : total (each)
Flights: £2721.57 (£907.19)
Main accomodation: £607.73 (£202.58)
Sanbona: £2136.53 (£712.18)
Shark Dive: £329.24 (£109.75)
Current Total: £5795.07 (£1931.69)